Remembrance
Yom HaShoah
Holocaust Remembrance

March of Remembrance!
---
The Holocaust Seems so Distant
But each year at Yom HaShoah We Remember!
The idea that the evil of World War II is long behind us is mere folly—current events tell us this is true—and so it is necessary to remember. The focus of the Lord, is still on His people. They were persecuted then and now they feel it come again as nations turn against Israel.
"Yom HaShoah, also known as Holocaust Remembrance Day, occurs on the 27th of Nissan. Shoah, which means catastrophe or utter destruction in Hebrew, refers to the atrocities that were committed against the Jewish people during World War II. This is a memorial day for those who died in the Shoah." (source: https://urj.org/holidays/hashoah)
But we do not have to forget, nor accept, what happened. Even those who are of the current generation of Germans refuse to forget ... in the name of forgiveness and in the Name of the One who made us all ... they speak ... they march ... to remember! Learn more on this page about the holocaust and how many peoples from many cities and nations are joining in a March of Life and to March for Remembrance.
First, events played out over time. An evil power grew and the Holocaust timeline video gives us a vivid reminder that this was a reality that covered the entire globe ...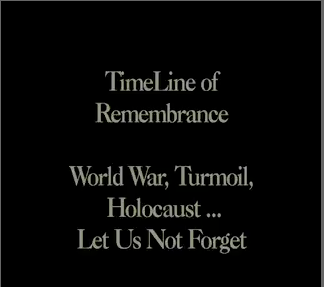 View This Short Video
Second, singer and songwriter Ted Pearce offers his personal introduction to the March of Remembrance and special words of introduction for Pastor Bittner who you can view speaking in the third video (see below).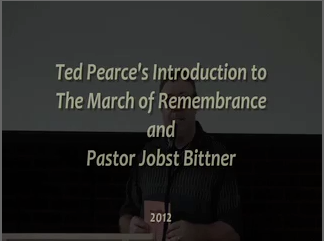 View This Short Video
Information on Ted Pearce and his music is available at tedpearce,com For more information on the March of Remembrance, this year and next year, go to the web site for the March of Remembrance. Note: the video presentation projected during this introductory segment can be viewed online at: vimeo.com/28602961
Third, no one can say more sincerely than the German people that they too remember. For the sake of passing along an important message to future generations, Pastor Bittner has been a driving force for the March of Life ... watch the following video to hear about this from pastor Bittner himself.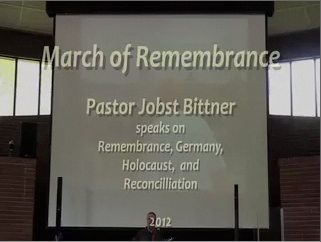 View This Longer Video
For more information visit: March of Life and TOS Ministries International. Also note: the video presentation projected during this introductory segment can be viewed online at: vimeo.com/32505693
---
Tweet this page address!
---
Visit TOS Ministries International
---

---

Let us know what you think about the Secret Place! Comment Form
---
Read the Bible: KJV of Hebrew (Tanach) and Greek (Brit Chadeshah); plus other translations added as available.
---
© 2012 www.WindowView.org
(071012)
---
Resources - click panel tab below to see more ...
Step Up To Life
Time spent looking ... through a window on life and choice ... brings the opportunity to see in a new light. The offer for you to Step Up To Life is presented on many of the web pages at WindowView. Without further explanation we offer you the steps here ... knowing that depending on what you have seen or may yet explore in the window ... these steps will be the most important of your life ...